Our family has been long time fans of Britax Car Seats and when Big Pea grew out of her infant seat at only six months, we did our homework before purchasing a bigger car seat. As with any parent, our main focus was safety and we wanted to ensure that we were giving her the safest car seat available! I combed through websites, read reviews and asked everyone I knew for recommendations and the same name continued to come up more than any other… Britax! You can guess from here what car seat we decided to go with.
Britax has a long line of consumers to stand behind their name, but I wanted to know more and when the opportunity for a review came my way, I jumped at the chance to learn more about this company and specifically their new seat, the Britax Advocate CS. The Britax Advocate CS is the newest convertible child safety seat in the Britax line and comes equipped with Side Impact Cushion Technology, (I'll talk about this more in a minute) making this the safest seat in the Britax line!
First, it's important to note that head injuries are the leading cause of death for children in vehicle crashes! It's also important to note that approximately one in four of all motor vehicle crashes that involve children, occur from the side. With that being said, Britax centered it's focus to these areas, in an effort to protect children in the event of a side impact crash……Enter the Britax Advocate CS.


Side Impact Cushion Technology….
The Advocate CS features Side Impact Cushion Technology which dramatically improves the safety of child occupants AND their adjacent passengers in the event of a side impact crash. Sounds pretty crazy, right? Well it all comes down to a bit of science and some really smart designers! These side cushions are attached to the exterior sides of the seat and feature robust air chambers that requires up to 10 times more force to compress than competing technologies, resulting in the transfer of more crash force energy away from the child protecting the child's head, neck and torso! Additionally, adjacent passengers are vulnerable to injury by coming into contact with the seat itself and the Side Impact Cushion Technology offers a soft, protective surface for adjacent passengers in the event of a side impact crash. NO other car seat companies offers this level of side impact protection.
Ok so if that isn't awesome enough in it's awesome-awesomeness, the Britax Advocate CS has many more features to add to it!
Click & Safe Snug Harness Indicator…
The Advocate CS comes equipped with a five-point harness system and the Click & Safe snug harness indicator is truly priceless and one that my husband noticed right away! This feature reassures parents that the harness is "snug as a bug in a rug" by offering a "clicking sound" when the straps are in the appropriate range of snugness. The National Highway Traffic Safety Administration found 59% of harness straps to be dangerously loose, so this feature could really be a life saver for your child!
Rear & Forward Facing…
The Advocate CS can be used rear facing from 5 to 35 pounds and forward facing from at least one year AND 20 pounds up to 65 pounds! I want to point out that in order to turn your child forward facing two things must come into play. First, they MUST BE 20 pounds AND (notices this is not an and/or) a minimum of 1 year old. Many times I see parents who turn their baby around because they are 20 pounds, although they are not 1 yet or vice versa. This is not safe! Please make sure that your child meets these two requirements before facing them forward. Please also note that recent studies suggest that children remain rear facing until two years of age. Now that my tangent is over, you can see in the pictures below how the seat fits in both the rear facing position and the forward facing position in our mid-size SUV (Honda Pilot). In order to place the seat in the rear facing position, you must pull a lever under the bottom of the seat, that will tilt it back.
Quick Adjust Knobs…
This feature is probably one of my favorite that accompanies the Advocate CS. On each side of the seat, there are quick adjust knobs that you can twist to adjust the headrest up or down to custom fit your child. Why am I so excited about this? Because every time one of my girls would grow, I would have to take the seat out of the car, remove the cover, take the straps apart and readjust them into the new position! And yes that's a pain in the butt! With the quick adjust knob system all I have to do is give it a little twist and and it adjust the headrest and the straps in the proper position. There's no need to remove the seat or take it apart. Pretty cool, right?
Push-Button Latch System…
The Advocate CS comes equipped with the push-button LATCH system for easy, quick and most importantly, safe installation! This feature rocks! We have been using the LATCH system for some time now and it makes the ritual of "switching car seats" quick and painless. With just a simple push and click on either side of the seat, the car seat is safely installed in any vehicle that comes with the LATCH anchors.
Energy Absorbing Versa Tether…
The Advocate CS comes equipped with the Energy Absorbing Versa Tether which is a strap that is attached to the upper back of the seat. There is a hook attached to the strap that can be easily attached to anchors within your vehicle. The Versa Tether can be used in both the rear and forward facing positions and once this extra bit of safety is attached, you can not move the seat side to side or back and forth. This ensures that when in the forward facing position, the seat is not going to fly forward and in the rear facing position, the seat is not going to fly towards the back of the car. I love this features, as I know this seat is going anywhere!!!!
Customer Service…
Britax loves when parents call them for help! Installing a car seat is not always the easiest tasks and with so many concerns about proper installation, it's important to get the help you need! You can call britax at their 1-800 number and a customer service representative can assist you with installation and anything else for that matter! You can even visit their website and have instant access to installation videos and User Guides in a matter of seconds. Additionally, you can fit your child to the right car seat by using their fit my child guide to choose the right Britax seat for your child!
Our Thoughts…
After using the Britax Advocate CS for the past few weeks, I have to say, we are impressed! The seat is clearly made well and the Side Impact Cushion Technology is an added bonus that puts my mind at ease, knowing that I'm giving Lil' Pea the best possible protection! The LATCH system and quick-adjust knobs make using the seat and adjusting the seat quick and easy and not a task that you dread performing. The Click & Safe Snug Harness Indicator gives my husband parents peace of mind that their child is safely and properly placed in the car seat. The seat sits high so that Lil' Pea can look out the window and is very padded and comfy. It also comes with a removable back pad for added comfort. Seeing and feeling this seat really made an impression as we could feel how well made it is and how each component could potentially save a life.
We have considered purchasing the Advocate CS for Big Pea who is now 5 1/2, however she is quite tall and it almost boosts her up too high in the car. We will continue to use the Britax Regent for her and feel confident that this seat is the safest option for her. Lil' Pea, however, will remain in the Britax Advocate CS for the at least the next few years! We absolutely adore the pink and brown patterned fabric and rest assured that we have made an educated and informed choice on her car seat.
The Britax Advocate comes in 5 different fabric choices and is available for purchase now at mass and independent retailers nationwide for a suggested retail price of $369.99. And of course I couldn't leave you without a deal! You can pick up the Britax Advocate CS right now at Amazon for just $319.99 w/Free Shipping!
Win it!
Britax has kindly offered to give one of these bad boys (or girls) away here at "Deal"ectible Mommies! That's right, one lucky "Deal"ectible Mommies reader will WIN a Britax Advocate CS!!!!! Winner will choose fabric color. I know that totally rocks, doesn't it? Just visit THIS LINK and tell me something you learned about Side Impact Cushion Technology or the Advocate CS Seat itself!

WIN ME!
I'm going to give you plenty of options for extra entries on this giveaway! All entries will be left in the comment section of this post! This giveaway will run until March 10, which is my Wedding Anniversary!!!
Extra Entries: The initial entry MUST be completed before any extra entries will count!! Each comment counts as 1 entry..so if you qualify for two entries, then leave two comments!!!
1. Follow me on twitter and tweet about this giveaway (This can be done once daily)
You can copy and paste this into twitter:
Win a Britax Advocate CS Car Seat (ARV $370) from @dealectiblemom!
http://tinyurl.com/y98kwlu
2. Fan "Deal"ectible Mommies on Facebook!
3. Subscribe to "Deal"ectible Mommies by Email or Subscribe to my feed. (each counts as 1 entry)
4. Follow "Deal"ectible Mommies…You can Follow My Blog on my right-hand sidebar!
5. *3 Entries* Blog about this giveaway (please leave a link to the post)
6. *3 Entries* Grab our Britax Giveaway Button: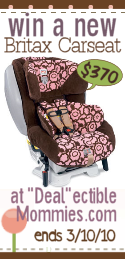 7. Grab our button!
8. Fan Britax on Facebook
9. Follow Britax on Twitter
The boring stuff: Open to U.S. residents only. Giveaway will end on March 10th at Midnight! Winner will be chosen using random.org!
Giveaway Disclaimer: Our sponsors are responsible for prize fulfillment. Please allow up to 6 weeks for delivery, although we hope it's right away!
Disclosure: Britax provided me with an Advocate CS car seat for my review and one for giveaway purposes. My thoughts and opinions remain my own!